It isn't hard to make perfect hard boiled eggs! They're the foundation for so many great dishes like egg salad and deviled eggs there really IS a technique for a good hard-boiled egg!
This easy peel hard-boiled eggs recipe takes the guess work out of how long to cook and cool the eggs for an 'eggcellent' result every time. Whether you're making egg salad or just a quick snack, these always turn out perfectly!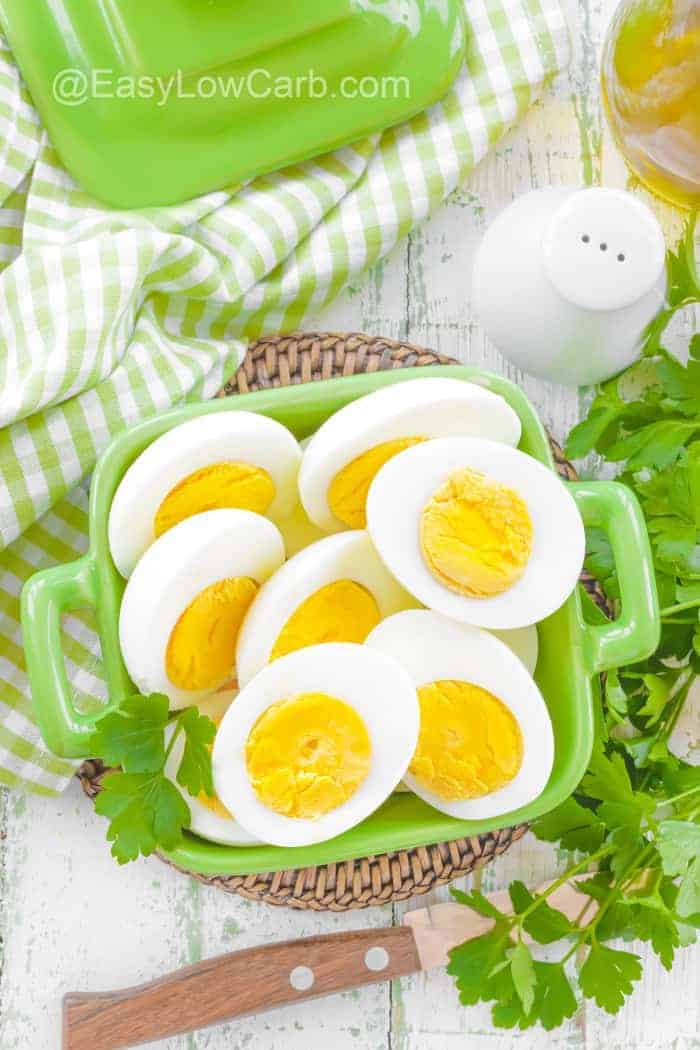 © Easy Low Carb.com
Hard Boiled Eggs
How to Hard Boil Eggs
The fresher the egg, the better!
How can you tell if your eggs are fresh? A fresh egg will sink to the bottom of a bowl of water and lay flat on its side. If your eggs are moderately fresh and still safe to eat, they will stand on one end in a bowl of water. Do not eat eggs that float on the surface of a bowl of water since they are no longer fresh to eat.
How to Make Hard Boiled Eggs
Place eggs in a pot and cover with cold water. Do not overcrowd the pan as the eggs will crack against each other once the water starts to boil.
Bring to a boil, cover, and remove from heat (per recipe below).
Place eggs in an 'ice bath' to stop the cooking process. It also makes the eggs easier to peel!
You can also put the eggs in a bowl and run cold water over them for about 5 minutes.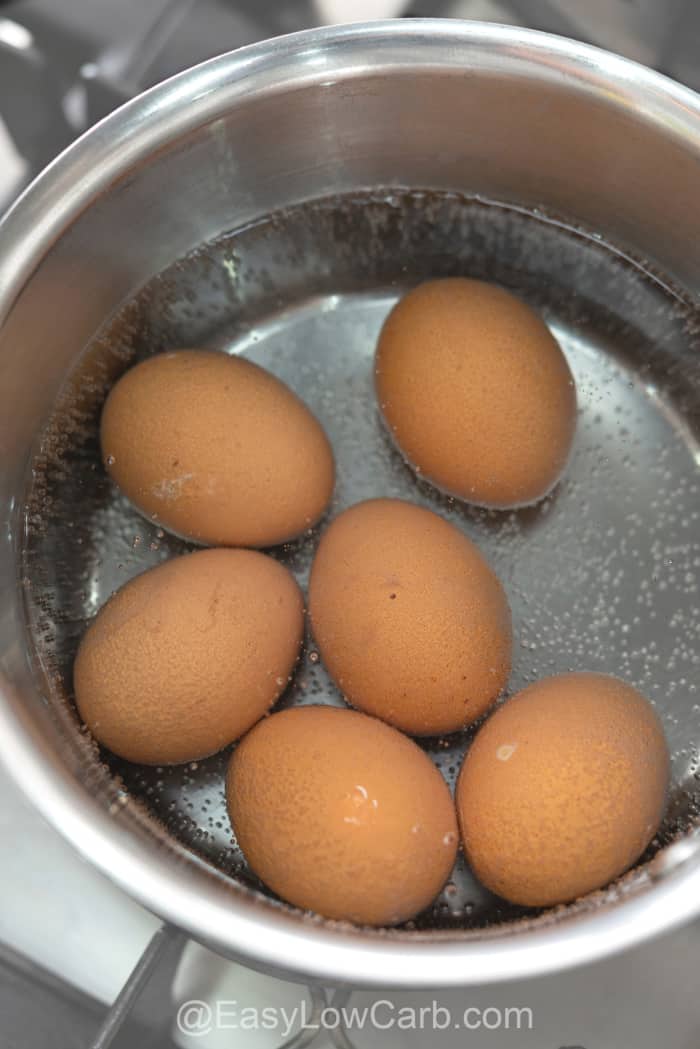 How Long to Hard Boil Eggs
Cooking times vary depending on the size of the eggs and how many you are boiling at once.
Smaller eggs will take about 10 to 12 minutes to cook after being removed from the heat source.
Larger eggs will take about 15 to 17 minutes to cook after being removed from the hot water.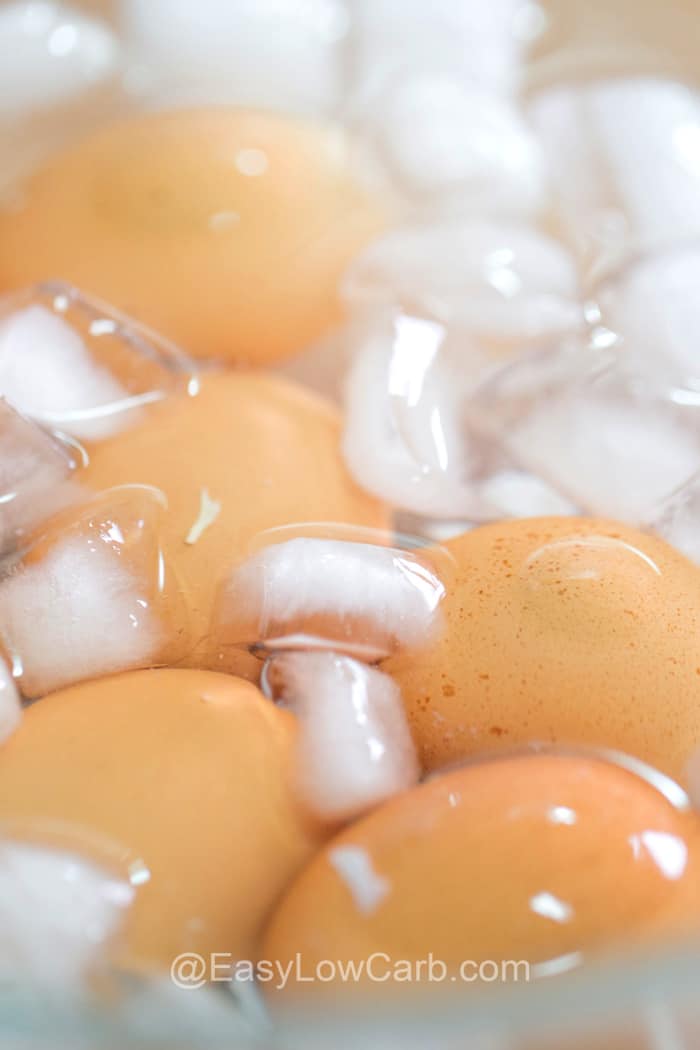 How to Peel Hard Boiled Eggs
The fresher the egg, the harder it is to peel since the albumen sticks between the egg and the shell if the egg is fresher.
Some people swear by adding a little pinch of baking soda to the boiling water because it helps separate the albumen from the shell on this inside.
The best way to peel a hard-boiled egg is to tap it lightly on a hard surface until it's cracked and then press into it until the shell cracks further. Then you can slide the shell off in two or three large pieces.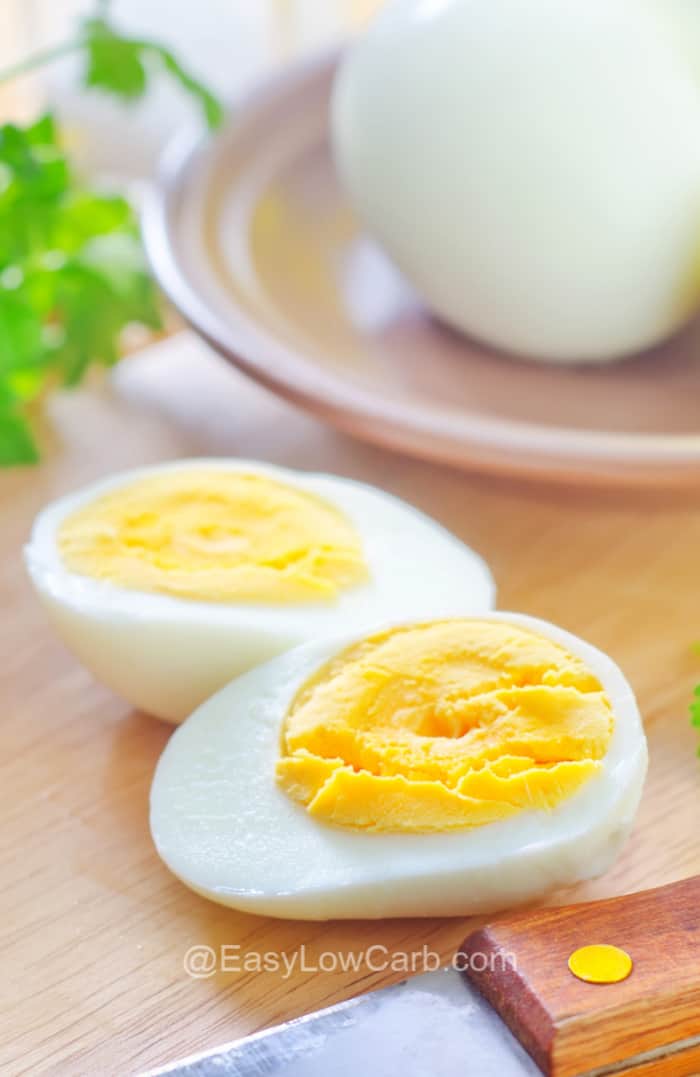 How Long Do Hard Boiled Eggs Last?
Hard boiled eggs will last anywhere from 5-7 days depending on how they are stored. Just be sure to separate them from the raw eggs and date them so you know how old they are and when to use them by.
Shell On: Hard boiled eggs with the shell still on should last about a week in the refrigerator.
Peeled: A hard-boiled egg that has already been peeled should last about 5 days in the fridge, but be sure it is sealed in a container or plastic bag since it will absorb the odors of other items in the fridge.
More Delicious Snack Ideas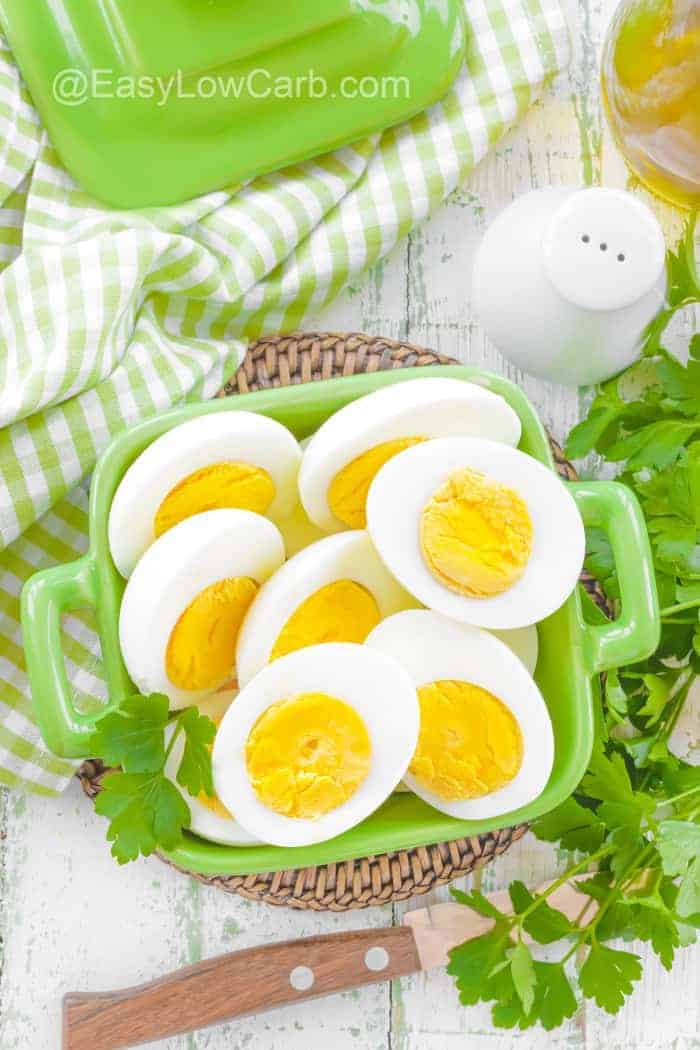 Rate Recipe
Hard Boiled Eggs
These are the perfect low carb hard boiled eggs. They can be eaten as is, or used for egg salad, deviled eggs, you name it!
Pin Recipe
Print Recipe
Instructions
Place eggs in a saucepan por pot and cover with water at least 1/2″ above the eggs.

Bring water to a heavy boil over high heat. Cover the pot and remove from heat.

Let stand for 15-17 minutes covered (for large eggs).

Remove eggs from hot water and place in a bowl of ice water or run under cold water for 5 minutes to stop eggs from cooking.
Nutrition
Calories:
62
kcal
|
Carbohydrates:
0
g
|
Protein:
5
g
|
Fat:
4
g
|
Saturated Fat:
1
g
|
Cholesterol:
163
mg
|
Sodium:
62
mg
|
Potassium:
60
mg
|
Sugar:
0
g
|
Vitamin A:
240
IU
|
Calcium:
25
mg
|
Iron:
0.8
mg
Course
Main Course, Side Dish, Snack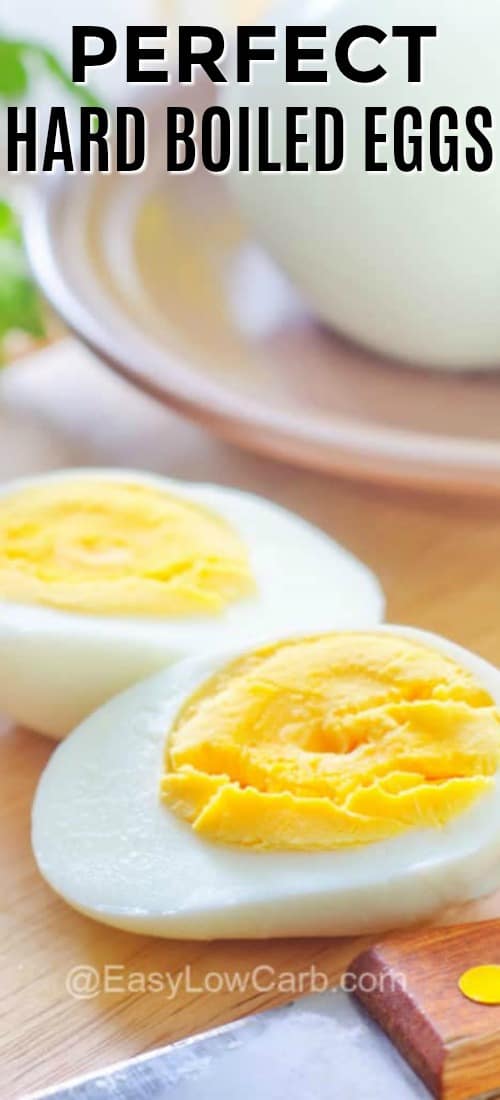 13