Coleslaw is a no-fail side dish that is always welcome at the table. With cabbage and carrots tossed in a tangy dressing, it is light, nourishing, and perfect for picnics, potlucks or any casual gathering of friends and family.
Homemade coleslaw is great to serve alongside an Italian stuffed burger or a delicious fajita turkey burger.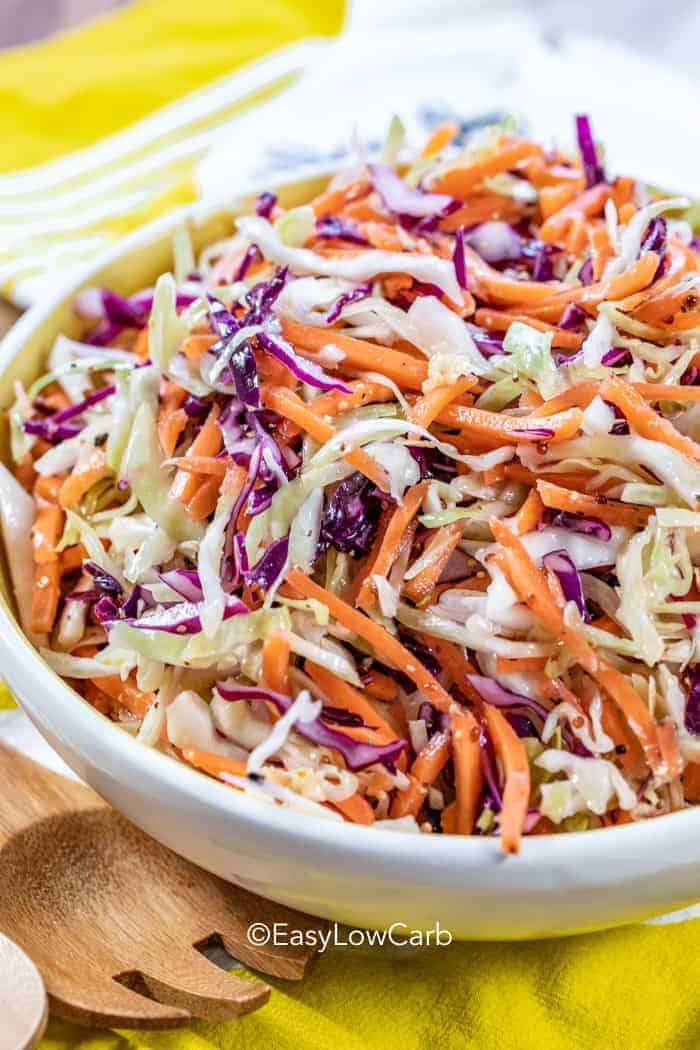 © Easy Low Carb.com
Homemade Coleslaw
What is Coleslaw?
Coleslaw, or slaw, as it is sometimes called, is a raw salad that has shredded cabbage as its main ingredient. Usually, grated carrots are also added.
To make creamy coleslaw, dress with mayonnaise, season with salt and pepper and serve.
To make keto coleslaw, you can leave out the carrot altogether, and eliminate the sugar from the vinaigrette dressing. Now that's one easy coleslaw recipe!
The fun thing about coleslaw is that, just like any salad, you can vary the ingredients however you want. Here are some ideas for tasty add-ins that can give your coleslaw some character and flair:
Fruits: chopped pineapple, raisins, or capers
Veggies: chopped peppers, diced celery, or sweet onion
Seasonings: Old Bay, celery seed or celery salt
How to Make Coleslaw
When making coleslaw, how fine you shred the cabbage will depend on who you ask. Personally, I find raw cabbage to be quite tough, and like a very fine shred, which is best achieved with a grater or I like to use a food processor or mandoline slicer.
Shred cabbage and chop carrots.
Prepare dressing in a separate bowl.
Toss all ingredients together.
Refrigerate for several hours, re-tossing a few more times before serving! This allows the cabbage to soak up the dressing and become packed with flavor.
How to Shred Cabbage
If you like to control the texture in your coleslaw, you can also shred it with a knife. Make sure to use your largest and sharpest blade for this task!
Peel off any loose leaves and rinse under cold water.
Place on a cutting board with the stem facing you.
Carefully cut the whole cabbage in half through the stem, then into quarters, also through the stem.
Turn each quarter 90° and finely slice across to get thin strands.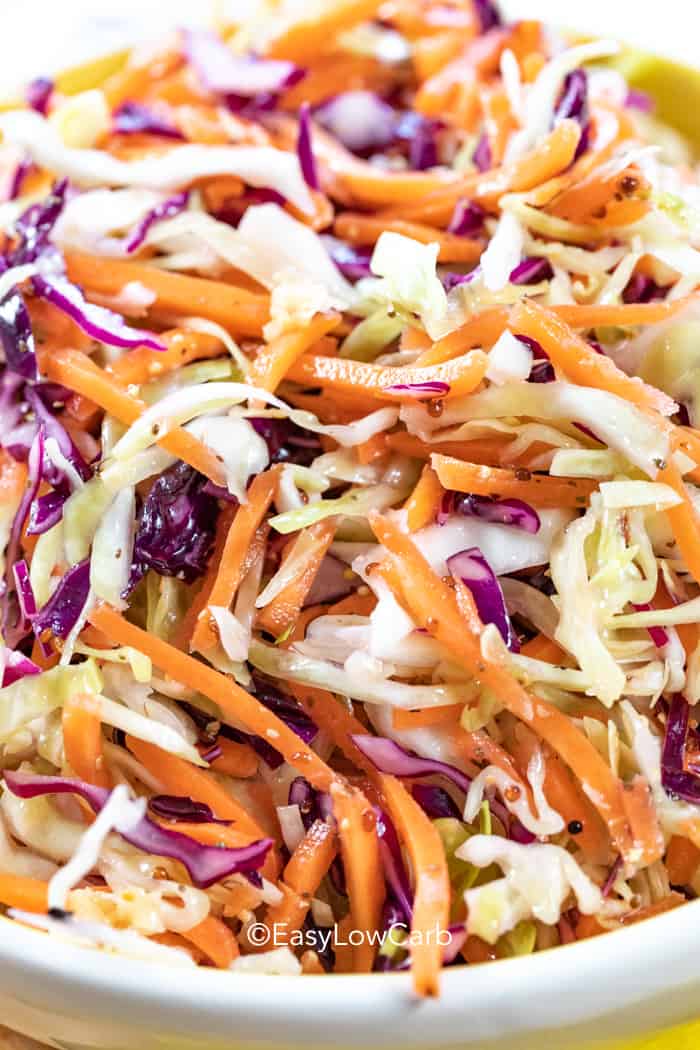 How Long Does Coleslaw Last?
Coleslaw can be refrigerated for 3-4 days. If you are dressing it with mayonnaise, you'll discover it does separate and gets watery and soggy. You can pour off the liquid and redress with more mayo if you desire.
You won't notice that issue so much with coleslaw dressed with vinaigrette. In fact, you'll discover the flavors develop deliciously well!
Can You Freeze Coleslaw?
I wouldn't recommend it! Raw veggies of any kind should not be frozen, and the same goes for coleslaw. Freezing causes the cells to burst, resulting in a pile of yucky mush. So just make enough for a meal and refrigerate your leftovers.
More Side Dishes You'll Love: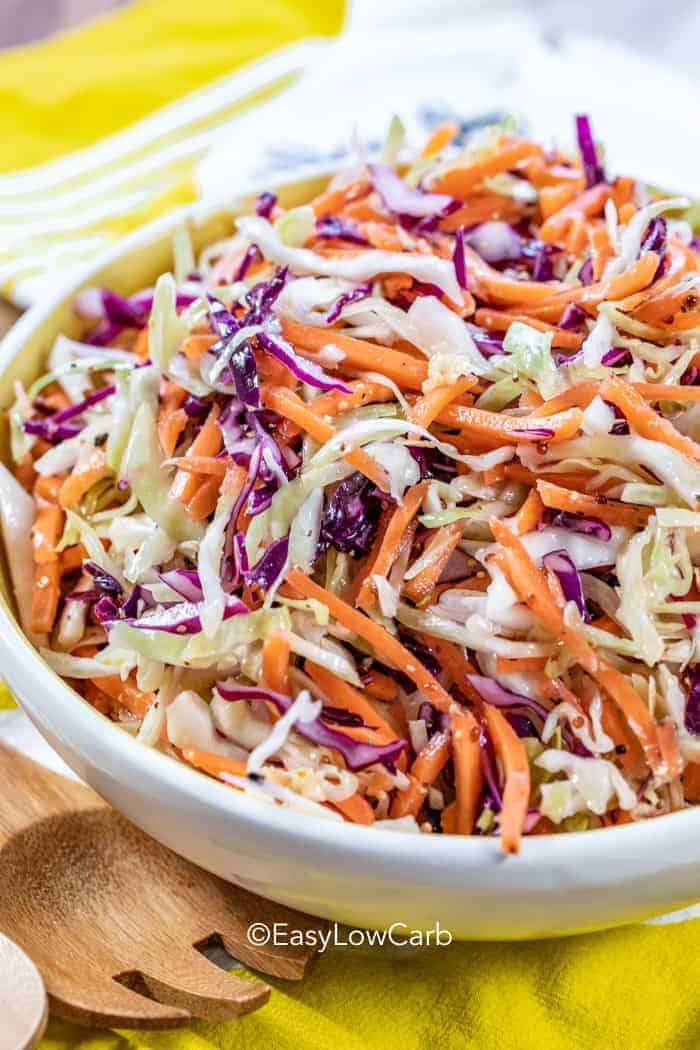 Rate Recipe
Low Carb Coleslaw
This low carb coleslaw is the perfect side dish!
Pin Recipe
Print Recipe
Ingredients
5

cups

green cabbage

1

cup

purple cabbage

1

cup

julienned carrots
Dressing
½

cup

mayonnaise

1

tablespoon

white vinegar

¼

teaspoon

celery seed

¼

teaspoon

garlic powder

1

teaspoon

dijon mustard

salt & pepper to taste
Instructions
Whisk all dressing ingredients in a small bowl.

Toss with cabbage and carrots. Season with salt & pepper to taste.

Refrigerate at least 1 hour before serving.
Nutrition
Calories:
235
kcal
|
Carbohydrates:
10
g
|
Protein:
2
g
|
Fat:
21
g
|
Saturated Fat:
3
g
|
Cholesterol:
12
mg
|
Sodium:
236
mg
|
Potassium:
305
mg
|
Fiber:
4
g
|
Sugar:
6
g
|
Vitamin A:
5700
IU
|
Vitamin C:
46.6
mg
|
Calcium:
56
mg
|
Iron:
0.8
mg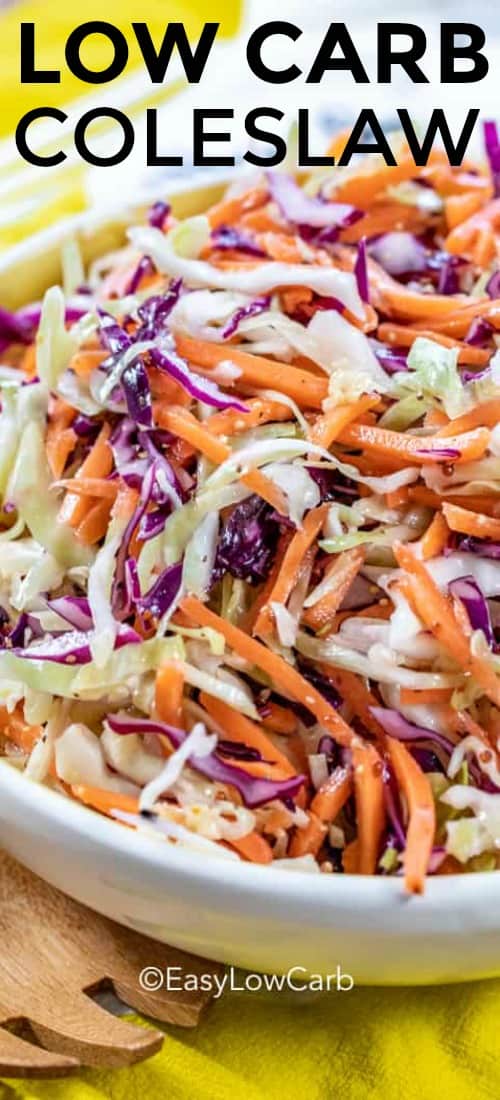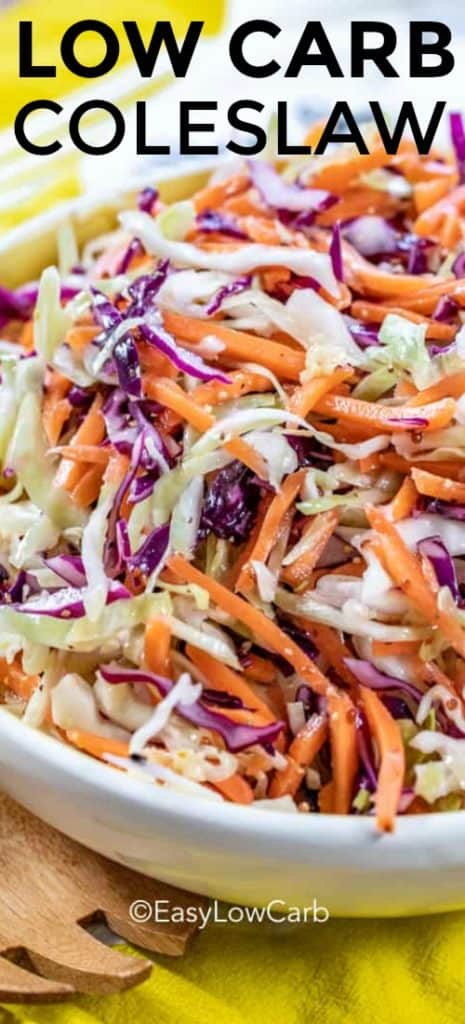 22