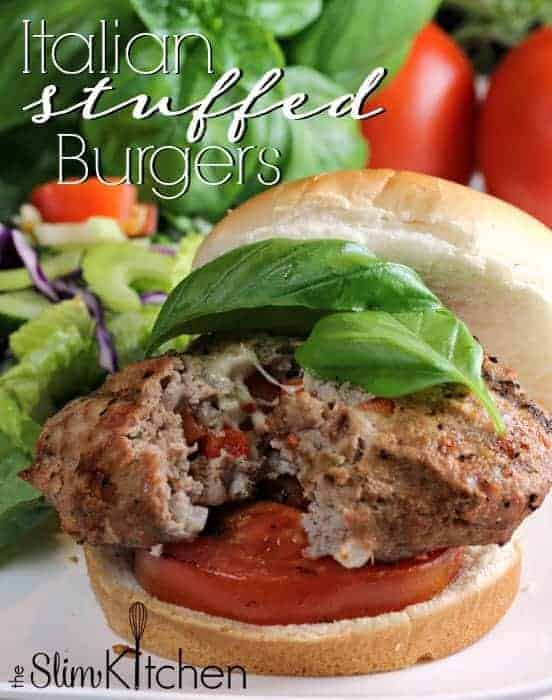 Nothing like a good ol' juicy burger!
These delicious Italian Stuffed Burgers are filled with a cheesy prosciutto filling!   Topped with a juicy grilled tomato and fresh basil, these are sure to become a family favorite!
If you are not familiar with prosciutto, it is an Italian dry-cured ham usually found in the deli at your supermarket!  It's delicious in this recipe adding a little bit of salt and extra moisture.
Italian Stuffed Burgers
Author:
Ingredients
2 lbs lean ground turkey breast (or extra lean ground beef)
2 cloves garlic
1/2 onion
1 tablespoon parsley
1/2 red pepper
1 oz prosciutto, finely diced
3.5 oz mozzarella cheese
1 oz fresh parmesan cheese
1 teaspoon italian seasoning
1 tablespoon fresh parsley
salt & pepper to taste
2 tomatoes, sliced into thick slices
fresh basil leaves
Instructions
Preheat grill to medium high.
In a small bowl, combine red pepper, mozzarella, red pepper, prosciutto. Measure out 12 tablespoons of this mixture and set aside.
Combine the leftover red pepper mixture with ground turkey, garlic, onion, parsley, Italian seasoning, salt & pepper. Divide meat into 8 equal pieces.
Flatten one of the pieces of meat into a pattie Add 1 1/2 tablespoons of the reserved red pepper mixture. Wrap the sides of the pattie around the cheese mixture until it is completely sealed. Re-shape if required.
Grill about 4-5 minutes on each side or just until cooked through (do not overcook). (Meat should reach 165 degrees).
Grill tomatoes for about 1-2 minutes.
Serve burgers with grilled tomato slices and fresh basil.
Serving size:
1 Burger
Calories:
251
Fat:
12.3
Saturated fat:
4.8
Carbohydrates:
3.2
Sugar:
1.6
Fiber:
0.8
Protein:
30.3
Cholesterol:
89.6
Notes
Note: Nutritional information does not contain the humburger bun.
4