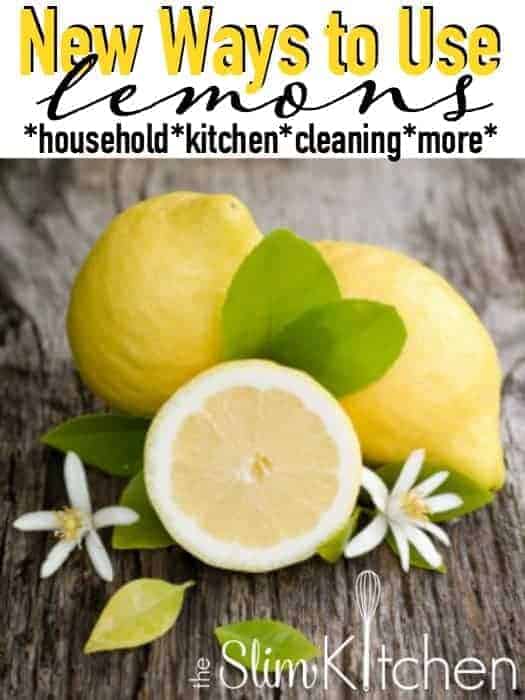 Pin it to SAVE it for later!
Follow The Slim Kitchen on Pinterest for more great recipes & tips!
Household Uses for Lemons
 Nothing in the world is better than an ice cold glass of lemonade, lemon marinated chicken, or fried lemon chicken from the Chinese restaurant down the street. Lemons are so wonderful for cooking; they offer a great, bitter tang to any dish. Since lemons are highly acidic, however, they are also great for lots of other things, other than cooking!
Sanitize your cutting board: Take a fresh lemon and cut it in half. Squeeze a little dishwashing liquid into the cut side, then rub it into your wooden cutting board. The acidic properties of the lemon will help to disinfect your board, while removing any leftover smells or food. Rinse well with hot water and dry. Your cutting board will smell brand new!
No more smoke: Help the keep the smoke smell of your fireplace down with lemons. Just grab some lemon (or orange) peels and toss them into the fire every time you light one. The lemon will help prevent your whole house smelling smoky after your fire!
Wake up: Nothing helps you to wake up better in the morning that the scent of lemon. Add some lemon slices to your water in the AM, and get going without the caffeine.
Clean your nails: If your nails are little yellowed or discolored, try cleaning them with a lemon. The acid in the lemon juice will help to return your nails to their natural color.
Garbage disposal cleaner: Lemons are great for cleaning your in-sink disposal! All you have to do is cut a lemon in half and dump it into the disposal, then turn it on. The acidic juice will help to clean the blades and the peel and seeds will help to break down any build up and keep the blades sharp. Make sure to run a stream of cool or cold water while you are doing it; the cold water will help any grease stuck in your disposal to clump, forcing it down the drain. It will also release a pleasant, lemony scent into you kitchen.
Smell fridge fixer: If you had something stinking up your fridge, and you've removed the offending food and cleaned, the smell should be gone. But it's not! Gross! Fix it fast by cutting a lemon in half and placing it into the fridge uncovered for a few hours. The lemon will soak up the stink, and leave a little lemon scent behind.
No more bugs: Adding fresh lemon juice to your floor cleaner will help to chase off ants and other bugs from your kitchen and bathroom. You'll leave an awesome, clean, lemon-scented floor behind too!
Lemon Facial: Grab some raw honey, some big grain salt or sugar and a half of a lemon. Pour a teaspoon or two of the honey onto the lemon, then sprinkle on the salt. Rub the lemon all over your face and neck, and let sit for a few minutes. Wash your face as usual. Using this method regularly will help your fight acne and rough skin naturally.
The scent of clean: If you've been cooking fish or onions, the scent can take over your whole home. Take a pot and fill it with water, then drop in some lemon slices. Bring it to boil, then let it simmer for thirty minutes. The lemon will vaporize into the air and make a natural, yummy smelling air freshener that will remove smells in and around your kitchen.
Clean your pots: Using the air freshener method, but instead, with a dirty pot! Any baked on grease will dissolve in the lemon water, leaving your with a fresh house and a shiny, clean pot or pan!