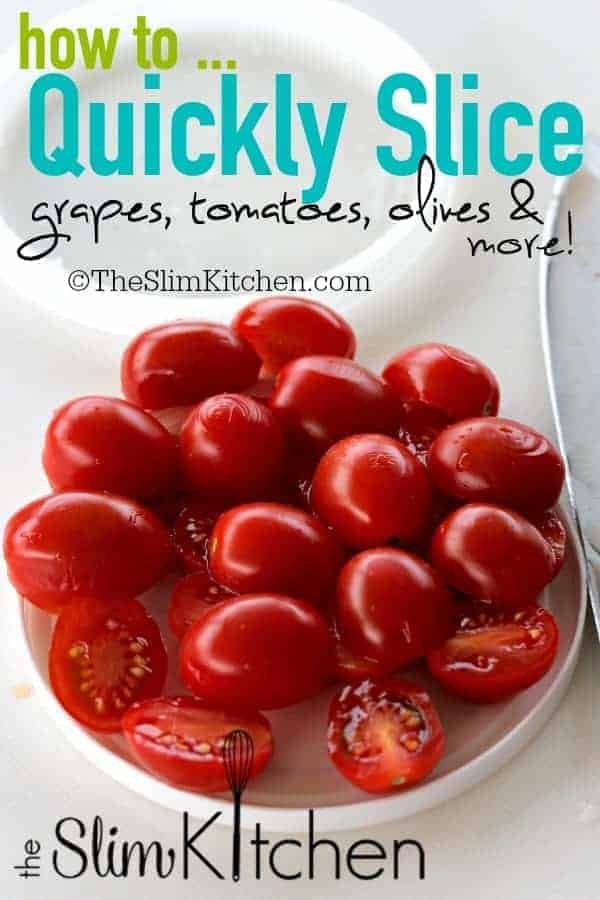 Quickly Slice Tomatoes, Olives, Grapes & more!
Pin it to SAVE it for later!
My sister gave this amazing tip for cutting tomatoes and I just had to try it out!  Worked like a charm!
If you've ever had a little one, you know how long it takes to individually slice grapes (or a whole bunch of cherry tomatoes for a recipe!)..  this is a very simple and easy time saver!  You probably have everything you need on hand already!
Supplies
Grapes, tomatoes, olives or other small food items to cut
2 lids with a lip the same size (sour cream or yogurt container lids work well)
a sharp knife
How to:
Prepare your food items by washing.  Place the items in one of the lids with the 'lip' facing upward to contain the items.  Place the second lid on top and hold with gentle pressure while cutting through!  Voila!  How easy right?
If your items are shorter than the lip of the lid, you can flip the lid over but may need to use a little bit more pressure to hold the items in place while cutting!